Happy Halloween & Catch-up Part II
Posted on Friday, October 31st, 2008
We're sitting down at a table in the Big Picture Cafe in Waitsfield, Vermont stuffed from the tofu scrambles, bagels & lox, and the dozen fresh maple donuts that we just finished off.  I'm enjoying a hot cup of coffee and the view of the mountain ski resorts just on the brim of opening.  We played at the Purple Moon Pub in Waitsfield last night and met some more great people.  One that namely stands out, Brooke, who invited us into her home last night and got us focused on the book again.  She's a freelance travel writer who has had a lot of adventures and success in the past 14 years that she's been writing.  She also traveled the country playing music when she was 19 and had a lot of good advice to offer us.  She also emphasized the importance of having a clear and concise mission statement and you can bet I'll be spending a lot of time on that soon.  We spent last night with Brooke and her jack russell Zoe sharing travel stories over coffee and catching up on down time.
We are rushing a lot and hope to slow down in these coming weeks.  We're running out of shows and as much as that frustrates me, it's almost a forced change of pace from what we've been doing this past month.  Lucas is coming out next week to meet us in New York and I'm hoping that the trip will continue to be successful as it's been and that we are able to get some radio/press during the time he spends with us.
So, back to catching up.  Let me start with last Saturday, October 25th at the Evelyn Bay Coffee Company in Brooklyn, Michigan.  We pulled into town (the back of a gas station) at three a.m. and rushed to bed in order to be up for our 10:00 a.m. show at the coffee house.  We walked in and the owner Vicki was happy to have us as the first musician at her coffee house!  She had worked in the restaurant industry for years before making the decision to open up one of her own.  We played a little longer than planned because I was having so much fun and enjoyed the refreshment of an early morning show.  We met a few other musicians who told us about a local music festival that really brings the town together every year.  Vicki and her girls (her staff) sent us on our way with a bagful of goodies and more coffee for the road.  I cannot thank all of these coffee shops for keeping me caffeinated during those late night hours.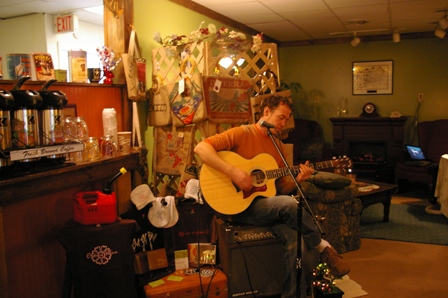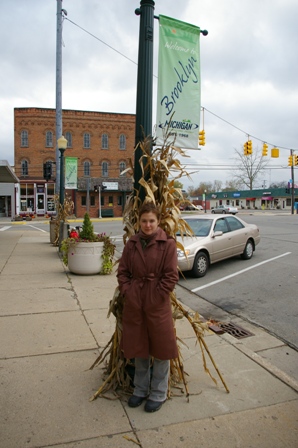 We headed towards Willoughby, Ohio to visit the house that my father grew up in.  We met the current owners who let us take pictures and we took some extra time to put together a 20 minute video of the neighborhood.  The video is mainly full of street lights and our nonsensical ramble, but it's amazing that technology now allows us to send that video across the coast only minutes after filming it.
We woke up early on Monday morning and drove to Linesville, Pennsylvania for a show at the Laughing Duck Bookstore and Coffee House.  The owner Cindy had told us to stop by early because Rebecca's Family Restaurant had offered to buy us breakfast while we were in town.  The restaurant even gave us bread to feed to the fish because Linesville is known as the place "Where the Ducks walk on the Fish."  After breakfast, we walked back across the street to The Laughing Duck and I was so surprised to see that Cindy had  already set up a full sound system and all I needed was myself and my guitar.  Thank you!  It's always nice to have a break from being my own roadie.  Carrying gear is part of the music that must always be appreciated!
The early morning hosted quite a few local people from town and I played a very mellow show in the store front window.  I felt like I was really able to open up and talk about the meaning of the songs.  I often get nervous about sharing the inspiration for certain songs as they often deal with some of the struggles with my past addiction or tattered relationships, but I am learning that these are almost always met with care and understanding.
And I met Tom!  Tom is a local musician and has been designing websites for folks in town.  He built this website on The Knickerbocker Hotel and he let me talk him into grabbing his Les Paul.  Before joining me on stage, Tom had said he'd be glad to join me on a couple of three chord A-D-E type of songs……and so I wasn't expecting this:
Walk With Me with special guest Tom Deighton ~ Linesville, Pennsylvania 10/27/08
<Insert Laughing Duck Podcast>
It was amazing.  Tom is such a natural player and it truly was such and honor and privilege to be able to share the stage with such a musician.  I am so glad Ammie was able to take those recordings and I have to admit I play those tracks daily just to hear Tom ripping up the fret board!  Cindy joined us and sang a really beautiful Bob Dylan cover and I hope to play with them again one day.  She also helped us to sell some cd's and presented us with a gift basket full of goodies and souvenirs from various merchants in town.
We rushed out of Linesville and began a quick back track in order to make it to Burton, Ohio for the afternoon show.  I wasn't used to sharing the lane with horse buggies and we ended up getting to Coffee Corners a bit late.  But I'm glad we booked the show with Laura because she and the owner Carmen were extremely understanding and welcoming.  Again, we were filled with coffee and completely taken care of.  We set up shop as quickly as we could and played our early evening set that was well received.
Afterwards, Laura and her husband Bryan invited us to a show in Middlefield, Ohio and offered to put us up for the night.  The warm still-standing shower was so appreciated and this young couple is such an example of love.  They went out of every possible way to make sure we were comfortable as they understand (more than we do) what life is like on the road.  Shortly after they married a few years ago, they decided to just jumped on bicycles and rode all the way from Ohio to the west coast.  They also lived in Bolivia for four months serving the people there.  Before we left, they made sure we had extra food and Bryan left me with some of his writings.  I hope to one day be able to put a link to his top-selling book!  Thank you so much for being there for us and for teaching me by example.  We wish you the best!!!!
The next morning we woke up and drove from Ohio, through Pennsylvania, up through New York and into Canada to view Niagara Falls.  It was absolutely beautiful at night with the crazy colors they somehow project onto the falls as you can see in a picture Ammie snapped below.  But the only thing I could think about while I was there was THIS GUY!  Awesome.
And we happened to turn down the wrong road somewhere near Fort Ann, New York and we found a cemetery with gravestones from the 1700's.  We thought it was a strange coincidence that we turned because many of the gravestones had the Thompson name.  That's how this whole trip has been.
So, now I think I'm pretty close to caught up…..for the moment.  We're off to play our Halloween show at the Dutch Treat Restaurant in Franconia, New Hampshire and we wish you all a very safe and HAPPY HALLOWEEN!!!!
Related show