Howdy Strangers!
Posted on Tuesday, November 25th, 2008
I'm pulling myself out of this hole I've dug and am starting to again see the light that this beautiful world shines upon me. I don't think I'll get into the specifics of this past week, rather I'll go back to where I left off with Lucas' arrival.
What can I say about Lucas?  He is by far one of the most talented drummers that I personally know. I'm not just saying that because he's my brother.  It's apparent every time he sits on his throne, beating the drums and twirling his sticks with his powerful hands as he brings any room to a standing applause.  The kid can rock it.  He is a brilliant musician and his creativity reaches places that constantly keep me intrigued and challenged.  His humor and wit could easily make him a writer for The Simpsons, Family Guy, South Park or any other darkly twisted intelligent programming.  He is passionate and reserved.  His smile brings confidence and a feeling of protection to those around him.  He is one of the better people I have met in my life.  He is my brother and he is my best friend.
We showed up to The Western Hotel Pizza & Tavern in Harrisville, Rhode Island on Friday November 7th after spending the previous day goofing around in New York City.  We still hadn't found a drum set for Lucas, but that wouldn't stop him from grabbing an extra guitar and using it as an impromptu hand drum.  It's amazing that he can make a guitar sound like a thundering drum with such ease. I had been worried that Lucas may had missed out on a lot of the fun considering how great our shows had been and still under the assumption that there was no way it could get any better.  The folks at The Western Hotel completely put those worries away as we partied and played music with them late into the evening.  They served us specialty pizzas, filled our bellies with sodas and beer, and cheered us on as we were the very first live musical act to every perform at the venue.  To me, that's such an honor.   We were tipped extremely nicely and a few of the employees took our invitation to hang out in the RV for an hour, sharing stories about Harrisville.  It was really nice getting to know them better and it was one of the best 'party' type shows we have played to date.
We woke up early the next morning and drove back down Rhode Island into Stonington, Connecticut where we had a morning show t the Yellow House Coffee & Tea.  The venue looked like it had been taken right out of a painting and I was so happy to start my weekend there.  I set up and began my set while Ammie & Lucas took a little extra time to catch up on sleep, but were there by my side soon enough.  People greeted us with excitement and warmth and they really took the time to listen to the music.  We met  a local artist by the name of Sue Scala who was kind enough to give us each a small hand crafted ceramic painting and really made the experience more personal.  Lucas really enjoyed reading her comics that she had hand painted on a variety of ceramics.   We again were treated to delicious coffee and I was really beginning to feel spoiled from all the caffeine and friendships!
Everything was going great but we still hadn't been able to track down a drum set for Lucas and I was feigning to hear his beats.  The folks at the Yellow House directed us towards Mystic, Connecticut where we decided to charge a brand new Mapex 5-piece kit for Lucas.   We couldn't wait to get up to Worthington, Massachusetts to try out the new kit and perform our second show and visit our third state in the same day.  We wound through the Mass mountains and I was sure we were getting lost as the RV struggled to climb one of the steepest roads we had traveled.  But sure enough, just as I though the RV was going to start rolling backwards down the mountain, we found Listons Bar & Grill which is known as the highest bar in Massachusetts.
Steve owns the bar and quickly served us up dinner and got us set up for a night of music.  Steve's wife makes an incredible bourbon sauce which smothered my chicken and was the closest thing I've had to a drink in eleven months!  The food was incredible and the people even more so.  So many things happened at this show before we even started playing music.  Elodi McBride, a local reporter for The Country Journal, was there to interview us and review the performance.  She was incredibly supportive and I'm working on getting a copy of the article to share with you all.
I was also introduced to a man by the name of Winters who put me in touch with Ray Genovese with the WMAS 1450 AM "The Four Seasons" radio show.  It is because of Winters that I have a live interview via phone-in on Saturday November 29th at 9:10 a.m. EST.  So visit www.thefourseasonsshow.com if you want to stream it live.  I later learned that Winters is an incredible artist who is married to the Asst. Attorney General of New York.  What  a small world we live in.
We got everything set up and began our first show with drums!  Yes!  It was so needed and Lucas and I quickly connected as if we hadn't stopped playing together at all.  A local band by the name of Smokin' Toad had stopped in to see us and joined me on stage to let me play one a couple of songs with them.  We played an original they had written, followed by a little Sublime and Jane's Addiction.  Those guys were so much fun and they even helped us carry our gear back to the RV after the show was over.  There is nothing like the instant friendships and connections that are made from music.  Thank you Listons, thank you Smokin' Toad, thank you Winters and Elodi McBride.  We truly had a blast!  We decided to spend the night in the parking lot and Lucas and I entertained Ammie by dancing around the RV rapping Beastie Boys before settling down to sleep.
We woke up early Sunday morning and drove to Red Hook, New York for a performance at the Taste Budd's, Inc. A really nice coffee shop that hosts music regularly on the weekends.  I played a small set before the regularly scheduled band arrived to play their set.  I thank Dan Budd for squeezing me in and referring me to WKZE 98.1 FM where we would spend the afternoon with a DJ by the name of Tim.  He spent about 20 minutes interviewing me about the trip, our adventures and had me perform a few songs live for the listeners that afternoon.  He even said he's going to keep us in rotation!  That meant a lot after having been able to hear his incredible taste in music that we were exposed to both before and after our interview.  Thank you Tim……the offer is still open for you to hop on the RV and travel with us!!!
Monday November 10th was spent at  Stir It Up Coffee in Mullica Hill, New Jersey.  We arrived to find an empty room behind the coffee house fully set up with a PA system.  Lucas, Ammie and I quickly took advantage of the situation and were rocking out as soon as we possibly could.  It didn' matter that no body was there to listen.  In fact, it was incrediblely comforting as it brought back so many memories of the days when Out of Place practiced in our parent's garage.  And we were able to be as loud and goofy as we wanted.  And, we weren't as self-conscious about wearing our new hats that my mom had send to ensure we would stay warm on the road.  Thanks mom ~ we love you!  Before our set was over, a couple of local musicians stopped by to catch our last couple of songs and even shared a few of theirs with us.  The language of music never ceases to amaze me.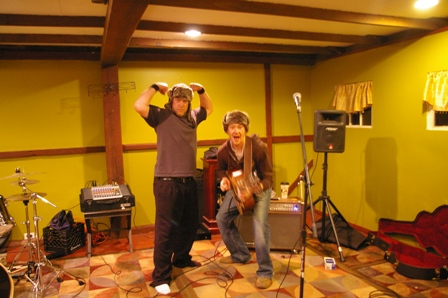 The next day was spent seeing the sights of Philadelphia!  Ammie took a ton of pictures and enjoyed the enthusiasm Lucas and I shared over eating our first authentic Philly steak sandwiches.  Cheers!  We saw the Liberty Bell and the room where the Declaration of Independence and Constitution were signed.  It was so overwhelming to actually be standing in the place where these crucial documents were signed.  Ammie talked us into hopping on a carriage for a buggy ride with our wonderful tour guide Shelly.  She let us feed her horse carrots and butterscotch and I almost fed the horse my hand.  The pictures don't quite capture the close calls.  Shelly took extra time to make sure we saw as much as we could and left us in high spirits as we headed towards our evening show at the Delaware City Pub in Delaware City, Delaware (man, that's a lot of Delaware)!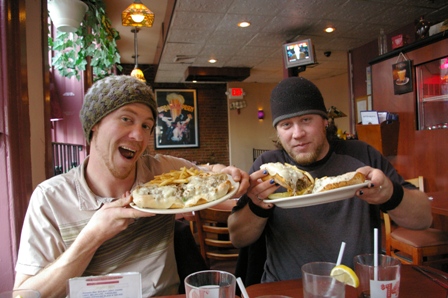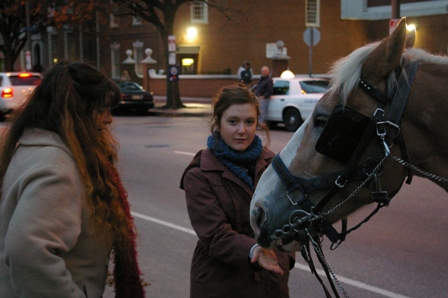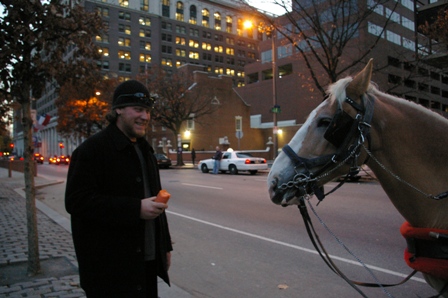 We set up in the back room of the Delaware City Pub and I felt like I was at Bob's bar in my hometown of Elk Grove, California.  It was a drinking hole for many of the locals and they all got involved in our performance.  They took time out of their dart tournament to join us in the back room, often taking over the mic and encouraging us to play songs that they could sing along to.  I think I must have played "What I Got" by Sublime about ten times and had fun each time.  Those guys were fun and we really appreciated being able to rock out loudly in such a small room.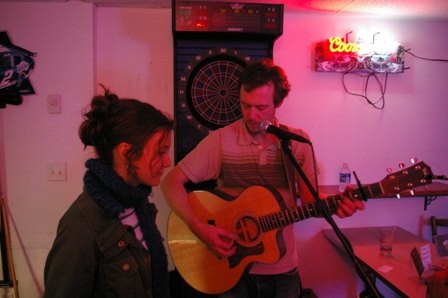 Wednesday November 12th was spent  in Gettysburg, PA where we toured the battlefields, the museums and the Cyclorama…the largest painting in existence.  There was so much history in Gettysburg that it was impossible to take it all in, but we did our best and were happy to be able to experience such a turning point in American history.
We drove to Leonardtown, Maryland on Thursday to play Brewing Grounds and again met some awesome people!  So many people came out to watch our performance.  It was so great considering it would be the last show with Lucas for a while and everyone was so generous filling our coffee cups and tip jar.  The owners, Valerie & Larry Trader, Jennifer Blake and Tim Meyer, took such good care of us and even offered to let us crash at their homes.  As much as we had wanted to stay and tour Maryland the next morning, we also really wanted to see Washington, DC before Lucas had leave.  So we packed up and drove to a parking lot somewhere outside of Washington but had to return in the morning because Ammie had accidentally left her cell phone.  When I stopped back in to pick up the phone, they again treated us to fresh cups of coffee and sent a couple of pounds with us for the road.  While I was waiting for the coffee to grind, I also met a man who played drums for the original Batman theme song.  I told you.  It's a small world.
After thanking them for the coffee and kindness, we drove to a hotel outside of Dulles International Airport where Lucas would depart the next morning.  We showered up in the hotel and rented a car to drive into Washington, DC to see the White House and have a big sushi dinner.  You would think it would be easy to find The White House but we circled around the city quite a few times before finally finding it.  I guess it was a lot smaller than we had thought.
The next morning (Saturday November 15th) Lucas flew back to Sacramento.  Ammie would fly to Colorado later that evening.  I have been alone since.  Much has happened in this past week and most of it has been not worth writing about.  Mainly a lot of sleeping, a bit of crying, some anger, some loneliness, confusion and a general sense of hopelessness.  We'll just call those the dark days and I will write more about that soon, but would like to leave you knowing that I am okay.  In fact, I'm better than okay.
The sun was shining this morning after a heavy rainstorm last night and I can't help thinking that the morning sun was a personal gift from God.  Things are falling back into place.  I played in Peterstown, West Virginia at an awesome venue this past Saturday night and am now on my way to Appomattox, Virginia for a show at Baines Books & Coffee this evening (which I'll blog about soon). My youngest brother Nathan will be flying into Raleigh, North Carolina tomorrow evening to spend Thanksgiving with me.  Ammie is not gone for good and we are going to see this trip through to the end.  I will actually be meeting her in Panama very soon………
Related show
4 Responses

to
"Howdy Strangers!"